So, Necrotek gave me this Ipod... and I figured that it needed a fitting container.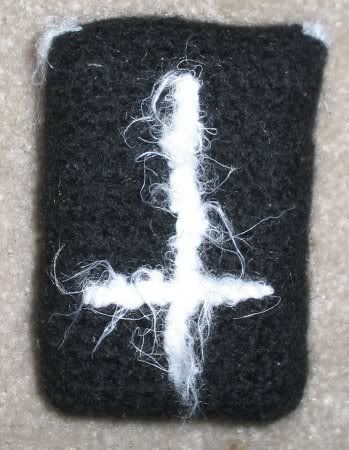 It's not really that crooked, it's just that the white is very fuzzy. It's made with some black wool yarn I had around, and then felted. The pattern wasn't much of one...

Body:
Ch 14
Sc in 2nd chain from hook, sc in next 11, 2sc in last ch (14)
Turn the chain so that you're now working in the other loops of the original chain. Sc in first 12 ch, then 2 sc in last.
Now chain around and around until you've done 23 rounds. This gives a sideways dimension of 13, with an extra stitch on either side to sort of join the front and back together.

Flap:
Sc in the back 13 sc, remembering to ch 1 for the turning ch, skip the first sc, and sc in the turning chain of the last row, like every other damn piece of rectangular crochet you've ever done.
Repeat for 10 rows.
Rw 11: Sc in first 5, ch 3, sc in next 5.
Rw 12-13: Sc 13 across

At this point, I felted the whole thing in a washer with hot water and detergent (and some towels, and a sneaker, and some other knitting, etc.). Then, I sewed the button on, crocheted the fuzz around the flap and chain-stitched the inverted cross on the back. Yay. An hour-long project and now I can maintain my status as the "creepy goth kid" on the bus. Or, you know, just protect the expensive electronic device.
If I made it for somebody else I'd probably be a bit more careful about keeping the rounds straight instead of just going in a spiral. It's actually not that lumpy, though - despite the way the picture looks.